Trust Transactions
Every law firm possesses two bank accounts: an operating account and a trust account.
Accounts
Clicking on the 'Accounts' tab from the menu opens the below page.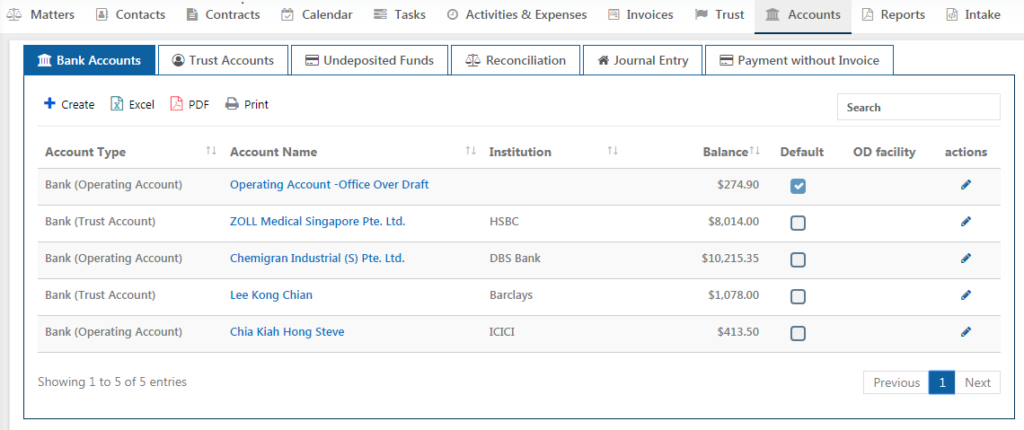 The page displays the different Account Types – Operating and Trust Account and the Bank details.
Click on the Create button. The below page appears.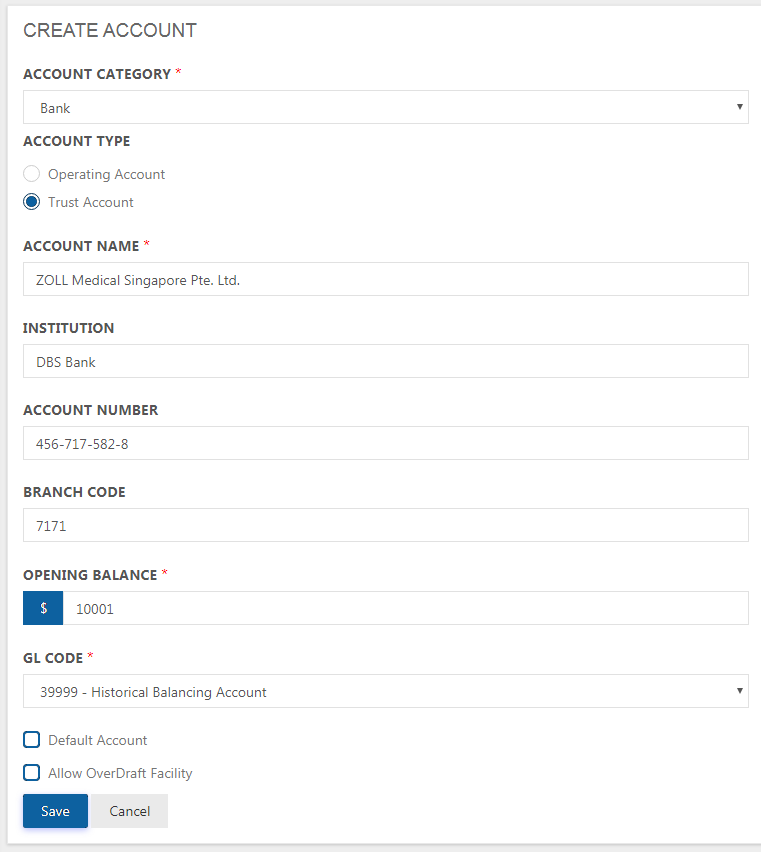 Select an account category and the Account Type. Along with this enter Account Name, Bank Name and the Opening Balance. The Trust account can be a Default Account or an Over Draft Account. When 'Default Account' option is clicked, all transaction are made from this account by default. When 'Allow OverDraft Facility' is clicked, it refers to taking out more money than is in the account.
Trust Account in Detail
Trust account is a special bank account that is critical to making sure that money given to lawyers by clients or third-parties is kept safe and isn't comingled with law firm funds or used incorrectly. A lawyer may receive funds that belong to a client or third party. To reduce the risk of the lawyer using that money incorrectly, the lawyer must place it in a trust account.
The trust option is present in the Menu next to the Invoices Tab.
Clicking on Trust opens the below page.

Trust Account allows 2 options such as Deposit and Withdrawals.
Deposit
Depositing an amount can be done for a Client or a Matter.
If the deposit is made for Matter, both the Matter and the Client are mentioned whereas when the deposit is made for Client, only Client details are entered and not Matter details. Deposit is the amount that is credited into the account.
Click on the 'Create' button on the top. 'New Trust Deposit Request' page appears.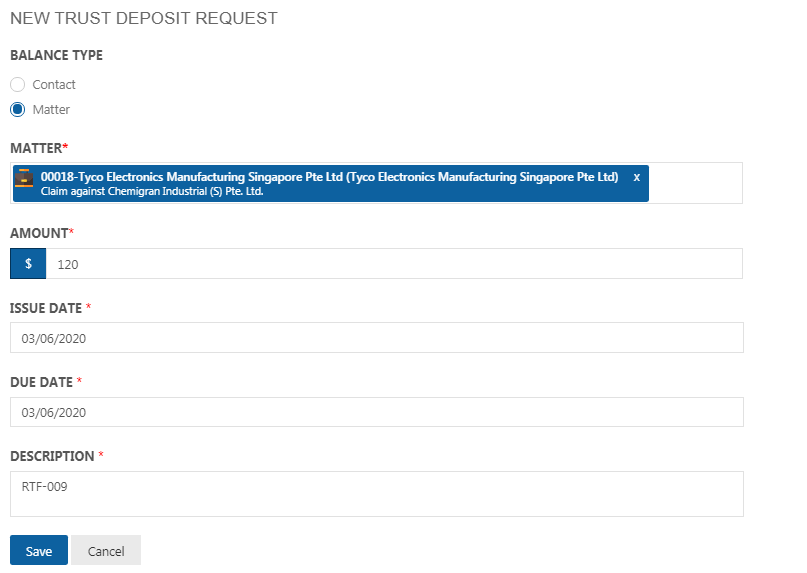 Select the Balance Type as Contact or Matter. Based on this selection, enter the Contact/ Company name or the Matter Name. Enter the deposit amount, issue date and due date and click 'Save'.
Withdraw
Clicking on the Withdraw Tab opens a page like the below.

Withdrawal refers to the amount that is debited from the account. Click on the 'Request Payment' button. The below page appears.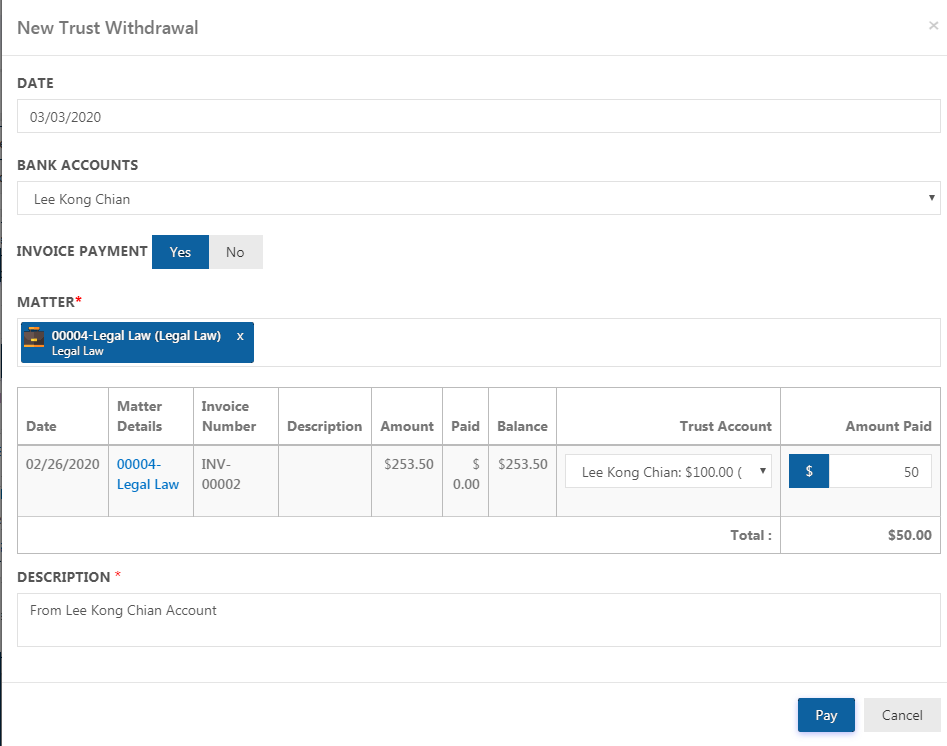 Trust Payment/ Invoice Payment can be made through this page. Enter the other details such as Matter Name, Account Name, Contact Name and the Amount and click Pay.
If Invoice Payment is selected as 'Yes', the various invoices are listed like the below.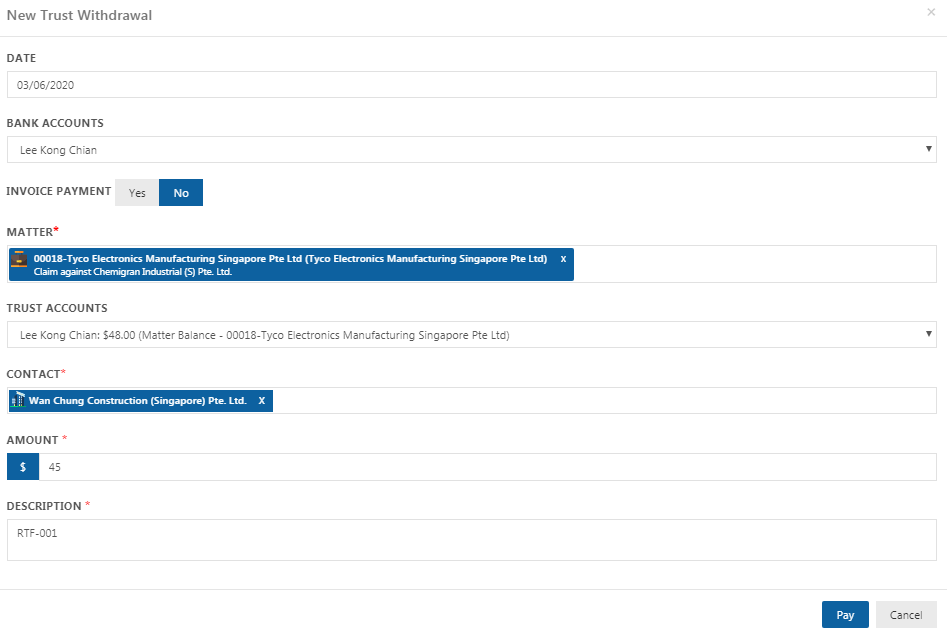 Fill the Amount Paid column and click 'Pay' button in the bottom.
To view Trust Account for Matter and Contact, goto Accounts and select the Trust Accounts Tab. The below page appears.

This lets you to any time check the existing trust accounts.