Run your Law Office with PageLightPrime
Everything you need for a Law Firm. Legal CRM, Marketing Automation, Case Management, Document Management, Email Management and Legal Accounting software all in one platform.
All on Office 365
What is PageLightPrime
Manage from client intake to final invoice for law firms. Focus your attention on legal services and not administrative burden PageLightPrime is the Client Matter centric workspace that adapts for modern law firms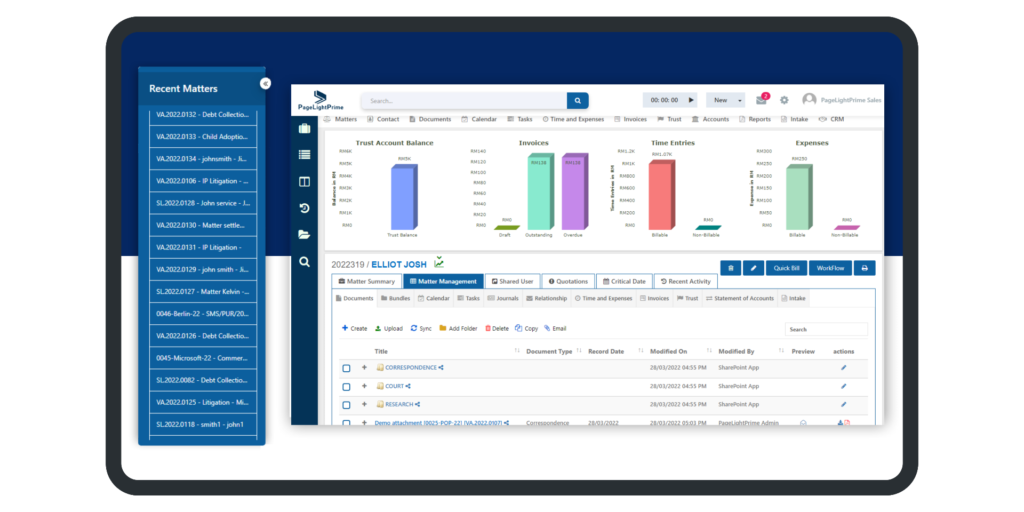 Practice Management Solution, one platform for all your law firm needs
Legal Technology for Paralegals, Timekeepers, Attorneys, and Partners. Software for Leads, Clients, Matters, and Billing.
Legal CRM
Track leads and maximize conversions to paying clients. Embed client intakes in your web site. Marketing automations and email campaigns all build for superior client experience.
Legal Case Management
Client Matter centric workspace to view case details in one place, like, Journals, Tasks, Relationship and Appointments. World class document and email management solution with sophisticated search
Time tracking and Legal Billing
Timekeepers can record time against tasks like document review to sending emails with single click. Customized matter billing based on job title, user, or contingency. Never miss billable hours
Law Office Accounting
Legal accounting with Trust and Retainer account management will ensue compliance with bar association requirements. Custom reports to view and analyze practice financial standing and health
Management Software for all law firms
Start your law firm's digital transformation journey with PageLightPrime. Legal CRM, Client Onboarding, Legal Workflow, Accounting Solution to Analytics – We have it all covered
Solo lawyers
Sole practitioners are running their business and PageLightPrime saves time on administrative tasks and follow ups, allowing you to focus on your clients and people
Small firms
High ambitions powered by PageLightPrime. Reduce overheads through automation and increase revenue with end-to-end cloud solutions
Mid-size and large firms
Software that scales with your growth, providing client self-service experiences on a branded collaboration platform backed by an empowered legal team
Divorce cases, child custody or family law matters made simpler with PageLightPrime. Counsel clients during their difficult times and be profitable
Escrow account management and workflow to guide lawyers on task to be performed around different real estate deadlines. Single or on-block transactions are the same
Wills, Estate or Probate manage your client needs and expectations with ease. Collect information from clients and generate documents to be shared through client portal
Claims process for your clients and organizing documents for your litigation proceedings. Accident or injury cases are onboarded with client intake and workflow for tracking tasks
Generate employment contracts based on federal and state regulations and keep updated with the changes. GDPR compliance for storing personal data
Access case documents from court, prison or when meeting clients so you are always productive. Work offline on your files. East access to justice for your clients
Matter and Document Management for Attorneys