Legal Outlook Integration
Collaboration and email access are provided through familiar Outlook interface.
Email Management Software for Law Firms
Organize emails on client/matter workspace for case team members to search client communications. Attach payload tag on all outgoing emails for predictive filing of outgoing and incoming emails in correct matter folders. Track time spent on emails to convert to activities for accurate billing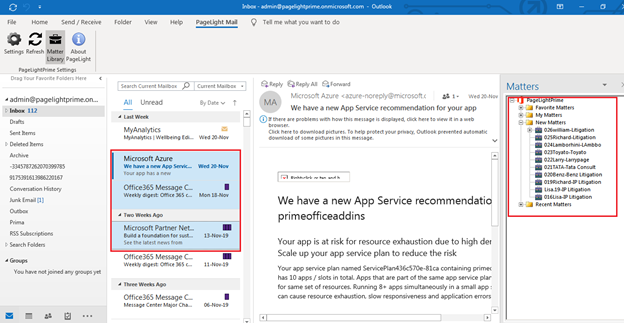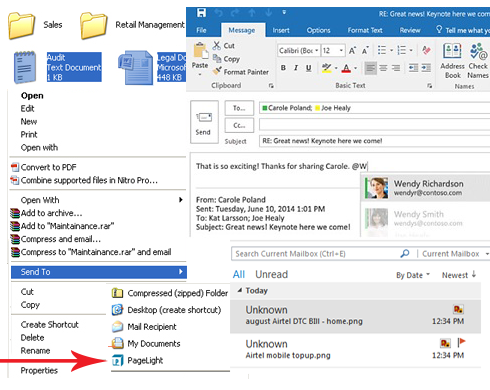 Share and collaborate documents with confidence
Add Files to PageLightPrime From Outlook. Users can drag and drop contents from their windows desktop or Outlook folders to case files. Stay in control of your shared documents while collaborating with internal or external users. Integrated activity feed and version history keep you on top of changes when you are working on the documents. Refer back to earlier versions of your documents stored on PageLightPrime. Revert to an older version if needed.
Sync PageLightPrime with Outlook
Sync Calendar, Document Library etc. to your Outlook. You can also update PageLightPrime Content from Outlook -Users can preview, view, or edit content that is stored in PageLightPrime from the Outlook User Interface.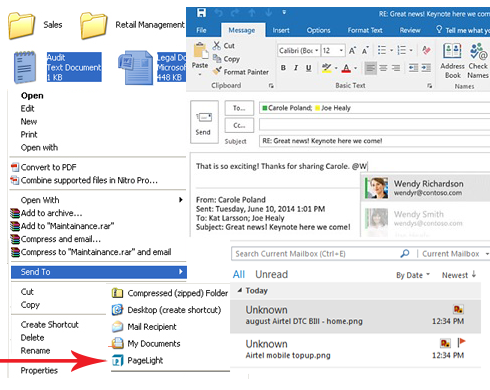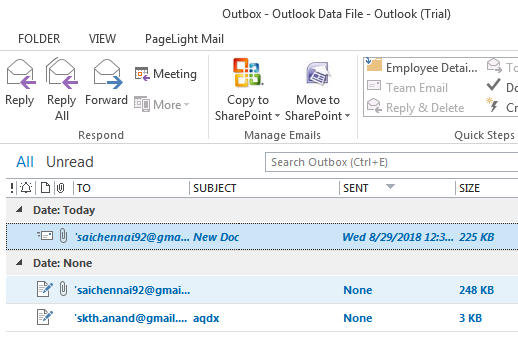 Save Outlook emails to PageLightPrime
Drag and drop emails from outlook with attachments PageLightPrime directly. PageLightPrime captures email attributes automatically like To, From, Subject, Date and Attachment Names. Mails can be automatically saved to PageLightPrime through outlook rules thereby providing seamless integration.
PageLightPrime and Outlook Integration
Every case in PageLightPrime is represented as Outlook folder for easy access and reference. Outlook email, attachments in email, folders or documents in file system can be easily dragged or dropped into the case folders. This will automatically save the contents to the case file and you will be able to track all the matter related information simply when you log into your outlook email – giving you a full record of case information for reference.
You can also sync your PageLightPrime calendar events to Outlook. The changes made in Outlook will sync back to PageLightPrime and the events can be viewed in your mobile app.
Accessing Calendars and Documents from Outlook will see an increased performance for lawyers as document creation, collaboration and email access are provided through familiar Outlook interface. PageLightPrime contents are available integrated with Outlook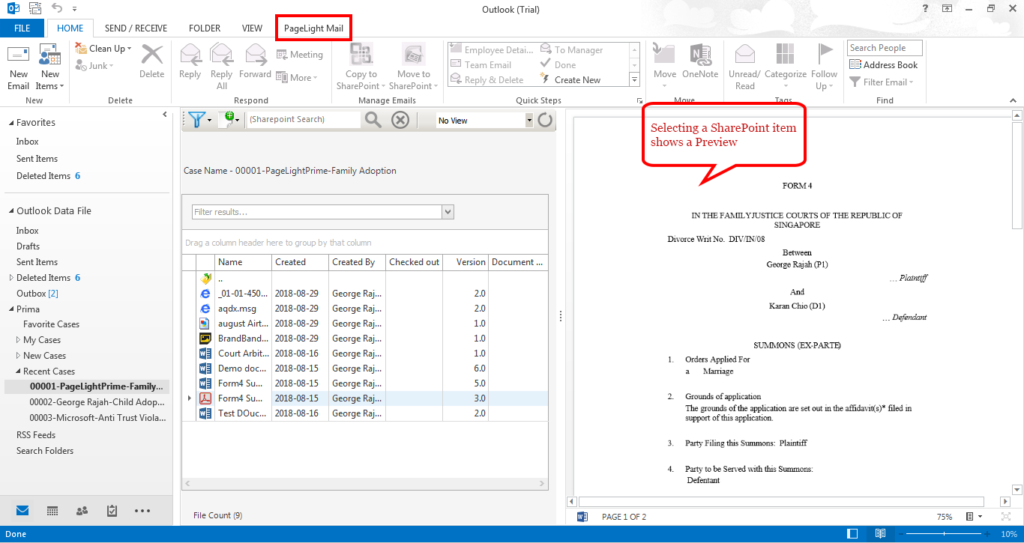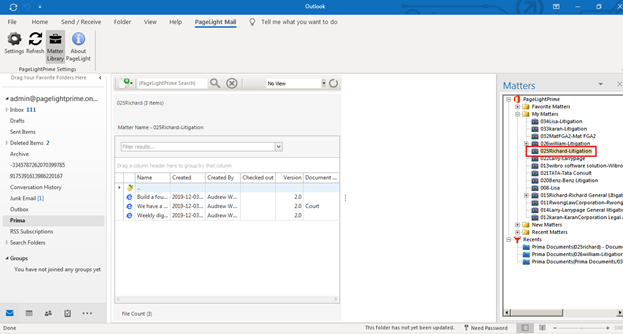 Practice Management on Outlook
Law Firm Management Solution integrated in Outlook, available in both Web and Desktop. Matter details and case status can be viewed securely on Outlook for practice leaders to review matter progress and keep track of firm's profitability
Integrate Legal Files With Outlook. PageLightPrime Contents Are Available Integrated With Outlook.